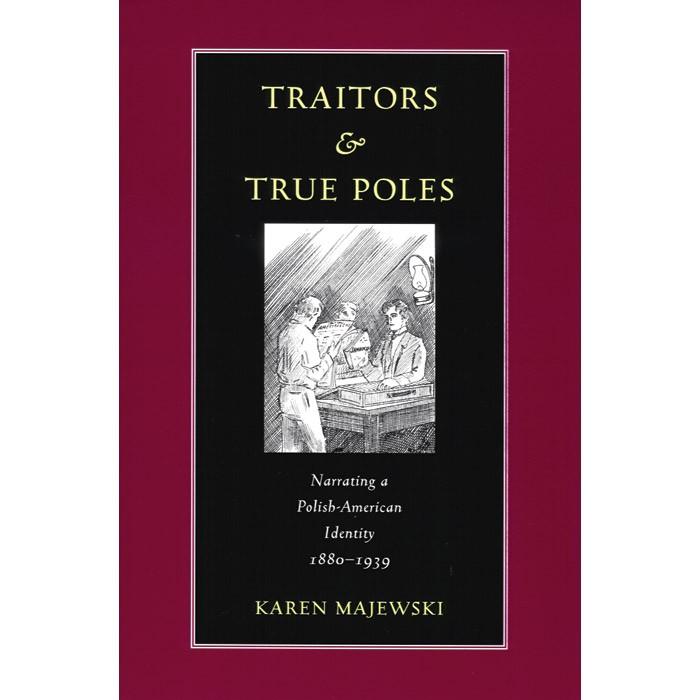 Traitors & True Poles: Narrating a Polish American Identity
Traitors & True Poles: Narrating A Polish American Identity, 1880-1939
by Karen Majewski
During Poland's century-long partition and in the interwar period of Poland's reemergence as a state, Polish writers on both sides of the ocean shared a preoccupation with national identity. Polish American immigrant writers revealed their persistent, passionate engagement with these issues, as they used their work to define and consolidate an essentially transnational ethnic identity that was both tied to Poland and independent of it.
By introducing these varied and forgotten works into the scholarly discussion, Traitors & True Poles recasts the literary landscape to include the immigrant community's own competing visions of itself. The conversation between Polonia's creative voices illustrates how immigrants manipulated often difficult economic, social, and political realities to provide a place for and a sense of themselves.
This is the first extended look at Polish-language fiction written by turn-of-the-century immigrants, a forgotten body of American ethnic literature. Addressing a blind spot in our understanding of immigrant and ethnic identity and culture, Traitors & True Poles challenges perceptions of a silent and passive Polish immigration by giving back its literary voice.
Winner of the Choice Award for Outstanding Academic Title
Winner of the Kulczycki Prize awarded by the Polish American Historical Association
"Majewski has unearthed a significant body of immigrant literature, rich with implications for understanding how an ethnic identity is created. . . [Her book] is a sensitive and imaginative exploration of the fiction she has uncovered, which employs theory where helpful but still generates new perspectives with exciting potential for understanding other immigrant groups."
MARY CYGAN, Associate Professor of History, University of Connecticut-Stamford
"Traitors & True Poles not only provides a valuable contribution to the study of Polish cultural and political history, but in a sensitive and respectful manner facilitates the understanding of American ethnic literature and multiculturalism, by adding the voice of the heretofore 'silent' Polish writers of the 'old immigration.'"
Slavic and East European Journal
KAREN MAJEWSKI is an assistant professor of Polish and East Central European Studies at St. Mary's College of Ave Maria University, Orchard Lake, Michigan. She is also executive secretary of the Polish American Historical Association.
Publishing House: Ohio University Press, Athens 2003
Softcover book measuring 6" x 9"
242 pages, photographs/illustrations, index
English Language Version
All books are shipped through the U.S. Postal Office using Media Mail service. Typically delivery times are between 1 and 2 weeks. Please be advised, certain destinations in the U.S. may take longer.