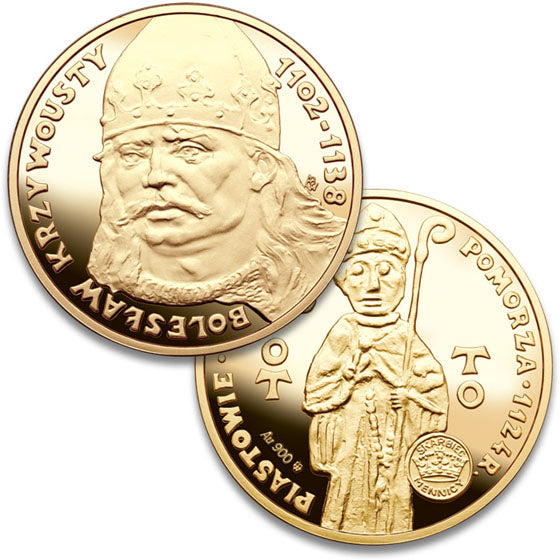 24K GP 925pf Silver Medal - Piast Dynasty, King Krzywoust
The Royal Collection - BOLESŁAW III WRYMOUTH
Piast Dynasty 1107–1138 - 24K Gold Plated 925 Proof Silver Numismat
The third item in The Royal Collection is a numismat with an image of BOLESŁAW III WRYMOUTH (1107–1138).
Each numismat has a diverse obverse decorated with an image of the King's seal.
Product is marked with the MW signature—the trade mark of the Warsaw Mint, today the Mint of Poland, which guarantees the authenticity, the original artistic design and the highest quality of production.
Free Gift
• SMP Embroidered Red Velour Bag.
• Certificate of Authenticity (in original Polish language).
Product Details
Catalog Product Number
2001906

Edition
Limited Edition Collection of 19500
Only 1000 available for US
Year of Issue
January 2009
Country
Poland
Weight
0.5 oz
Stamp
Mirror
Alloy
24K Gold Plated 925 Proof Silver
Diameter
1.26"
Condition
Uncirculated
Designer
Beata Wątróbska-Wdowiarska
In 1766, King Stanisław August Poniatowski founded a mint that would design and create the most beautiful coins on the Old Continent. Today, The Mint of Poland is a leading producer of coins and medals in Poland and Europe. It is Poland's only manufacturer of circulation and collector coins, issued by the National Bank of Poland, and is the third best mint in the world. An exclusive agreement, between The Mint of Poland Treasury and Polart, a 20 year-old company providing gifts from (or about) Poland, is bringing some of the finest medals and coins ever made to America for the first time.