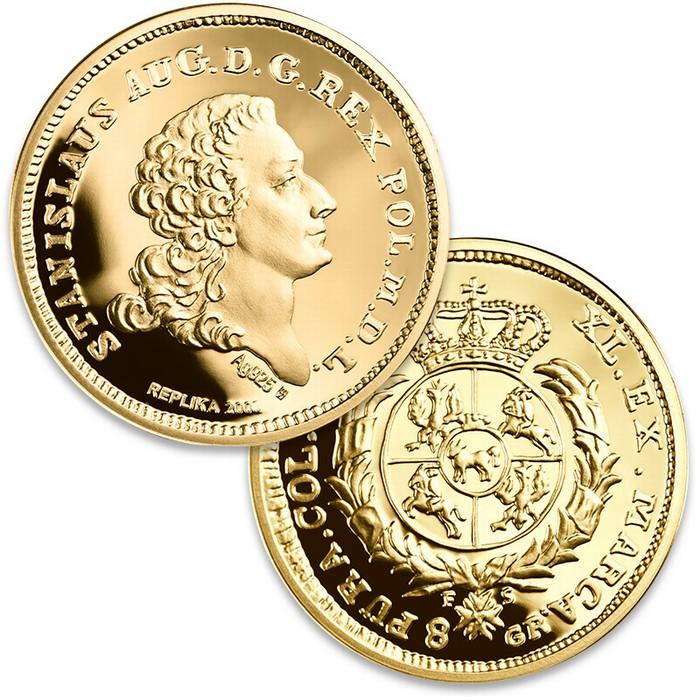 24K GP 925pf Silver Medal - Replica of 1766 King Poniatowski
Replica of the 1766 King Stanisław August Poniatowski 2 zł

24K Gold Plated 925 Proof Silver Numismat

Replika 2 zł 1766 króla Stanisława Augusta Poniatowskiego

Numizmat Srebro próby 925 platerowane 24K złotem

Replica coin of King Stanisław August Poniatowsk—the first coin struck at the Mint of Poland! This replica is issued in 24K Gold Plated 925 Proof Silver.

Nowadays the replica of this exceptional royal coin can become an extraordinary gift or a personal symbol of prosperity.

Limited issue inspiring strong emotions!

Product is marked with the MW signature—the trade mark of the Warsaw Mint, today the Mint of Poland, which guarantees the authenticity, the original artistic design and the highest quality of production.

Free Gift
• SMP Embroidered White, Blue, or Red Velour Bag.


Replika monety króla Stanisława Augusta Poniatowskiego—pierwszej monety wybitej w Mennicy! Replika emitowana ze złota próby 900. Piękniejsza wersja sztabki złota!

Replika tej wyjątkowej, królewskiej monety już dziś może stać się nietuzinkowym prezentem albo osobistym symbolem pomyślności.

Limitowana emisja budząca wielkie emocje!

Produkt oznaczony jest sygnaturą MW—znakiem firmowym Mennicy Warszawskiej, dziś Mennicy Polskiej S.A., który jest gwarancją jego autentyczności, oryginalnego projektu artystycznego i najwyższej jakości wykonania.

Upominek
• Białą, Niebieską, lub Czerwoną welurową sakiewkę z wyszytym logo SMP.

ATTENTION! Each medal is shipped separately via USPS Registered Priority Mail with $9.95 S&H for US orders. 7% sales tax will be added for each shipment for orders shipped to the state of Florida.

UWAGA! Każdy numizmat jest posłany oddzielnie przez Zarejestrowani USPS Priority Mail z $9.95 S&H dla amerykańskich zamówień. 7% podatku od sprzedaży będzie dodanego dla każdej wysyłki dla zamówień posłanych do stanu Florydy.

Product Details
Catalog Product Number
2002347
Edition
Limited Edition Collection of 19900
Only 120 available for US
Country
Poland
Weight
0.5 oz
Stamp
Mirror
Alloy
24K Gold Plated 925 Proof Silver
Diameter
1.26"
Condition
Uncirculated

Szczegóły produktu
Nr katalogowy produktu
2002347
Nakład
Limitowana edycja kolekcji 1766
Tylko 25 przeznaczono na rynek USA
Kraj
Polska
Waga
14,14 g
Stempel
Lustrzany
Stop
Srebro próby 925 platerowane 24K złotem
Średnica
32 mm
Stan
Menniczy

In 1766, King Stanisław August Poniatowski founded a mint that would design and create the most beautiful coins on the Old Continent. Today, The Mint of Poland is a leading producer of coins and medals in Poland and Europe. It is Poland's only manufacturer of circulation and collector coins, issued by the National Bank of Poland, and is the third best mint in the world. An exclusive agreement, between The Mint of Poland Treasury and Polart, a 20 year-old company providing gifts from (or about) Poland, is bringing some of the finest medals and coins ever made to America for the first time.

W 1766, Król Stanisław August Poniatowski założył Mennice Warszawska, której zadaniem byłoby zaprojektowanie oraz wyprodukowanie najpiękniejszych monet w Europie. Spadkobierca tej tradycji, Mennica Polska jest wiodącym producentem monet i medali w Polsce i Europie. W Polsce Mennica jest wyłącznym producentem monet oraz medali kolekcjonerskich, wydanych przez NBP. Bardzo wysoki poziom wykorzystywanych technologii stawia Mennice Polska w rzędzie trzech najlepszych mennic na świecie, obok Mennicy australijskiej i kanadyjskiej. W specjalnym porozumieniu zawartym pomiędzy Skarbcem Mennicy Polskiej i Polart, 20-letnia firma z Floryday zajmująca się dystrybucja upominków z Polski i o Polsce, po raz pierwszy te najwyższej jakości medale będą dostępne dla kolekcjonerów w Stanach Zjednoczonych Ameryki.