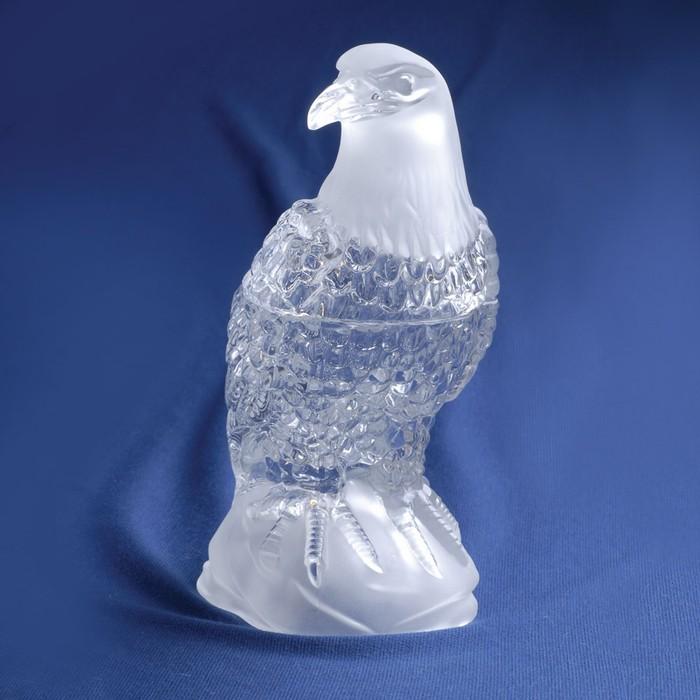 Clear Crystal - Eagle Candy Jar, 9 inches Tall
Enrich your home with a spectacular lead crystal glass eagle jar, Polish or American that is functional as well as decorative. The crystal hand-etching and hand-cutting techniques used to define the life-like features of the eagle characterize its magnificent beauty. The upper part of the eagle is a lid while the lower half is the container.
Lead crystal is a popular gift for weddings, anniversaries, graduations, and baby showers. A crystal piece is usually so treasured in households that the keepsake is passed from generation to generation.
24% Lead Crystal
Measures approx. 5.5"L x 4.5"W x 9.25"H
Made in Poland
To decrease the risks associated with eating and drinking from lead crystal, constantly store food and beverages in lead-free containers and immediately transfer them to the crystal item right before serving. New crystal can be soaked in vinegar for 24 hours before use, then hand washed with mild detergent, and thoroughly rinsed in lukewarm water. Since the danger of lead exposure is more prominent for children and pregnant women, it is best to abstain the usage of lead crystal for these groups.