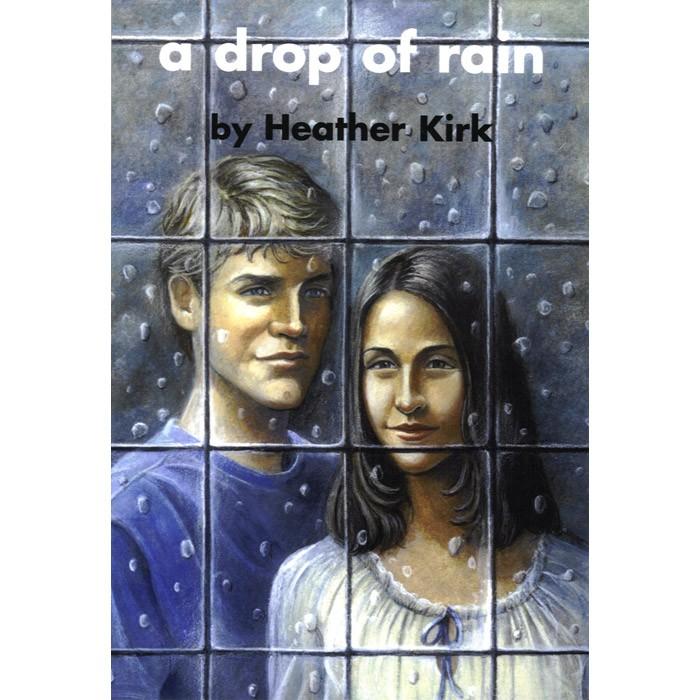 Drop of Rain, A - Heather Kirk
A Drop of Rain
by
Heather Kirk
A Drop of Rain is a novel for young adults and the sequel to Warsaw Spring (Item # BK2641).
The action takes place twenty years later. Through the journal entries of six people over a period of three months, from September 11 to December 31, 1999, emerges the story of a young woman finding strength and a broken family healing.
Confronting the love and pain of growing up …
Sixteen-year-old Naomi is starting at a new high school. Curtis, the artistic guy she likes, seems to be avoiding her, making her feel alone and lonely. On top of lots of homework and an awful part-time job, she has problems at home. Her dying aunt has come to live with her family, and Naomi's mother seems to be on the verge of a breakdown. How can Naomi overcome all these negatives in her life?
Over three harrowing months, Naomi tries to find the strength to help mend her family. Dairy entries by Naomi and her family give us a full understanding of what brings Naomi and her mother to the brink of dispair—and back.
"It's wonderful—a powerful story, and it's all come together in such an interesting way…"
—Priscilla Galloway, author of more than 20 books for children
"Exquisite!"
—Patricia Bishop, Member, Editors' Association of Canada
"I got into it right away. It was very interesting. It has a deep message. I think other young people would like it. It's for anyone up for a challenging and thought-provoking book."
—Laina Smith, Grade 12 student, Barrie North Collegiate
HEATHER KIRK has written newspaper and magazine articles, radio scripts, poetry and fiction. She has also taught for many years at universities and colleges. Kirk grew up in Oakville, Ontario, and studied English literature at Dalhousie University in Halifax, the University of Toronto, and York University. She now lives with her husband and dog in Barrie, Ontario. Kirk has been interested in Eastern Europe and the Soviet Union since she was a teenager. She lived and worked in Poland between 1977 and 1979, and she has Polish friends still today. Poland has informed and inspired the writing of both the novels which she has published with Napoleon, Warsaw Spring and A Drop of Rain.
Publishing House: Napoleon Publishing, Toronto 2004
SoftCover book measuring 5.1" x 7.5"
215 pages
English Language Version
All books are shipped through the U.S. Postal Office using Media Mail service. Typically delivery times are between 1 and 2 weeks. Please be advised, certain destinations in the U.S. may take longer.