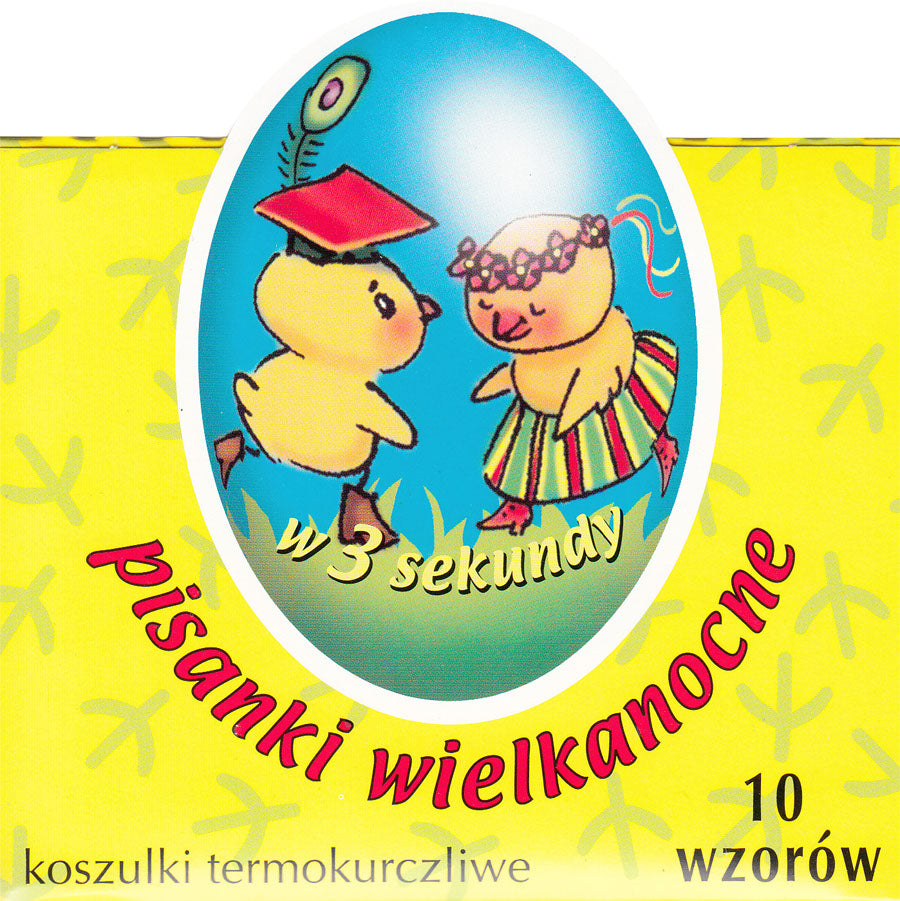 Easter Egg Sleeves - Krakowiaki Cartoon Series
PLEASE CLICK ON THE IMAGE BELOW TO SEE A PICTURE OF THE VARIOUS INCLUDED DESIGNS.

Easter egg wraps are great fun for the whole family. Made with modern material, these non-toxic printed sleeves will shrink onto an egg when dipped in boiling water. The egg jackets are designed to unite the fun of decorating Easter eggs with learning of the traditional Polish Easter celebration. Poland and surrounding Slavic cultures have a long standing tradition of decorating eggs for Easter, these eggs are called pisanki. Now you can create your own pisanki for Easter with these easy to use egg wraps.
Set contains 10 different designs. Made in Poland.
Instructions:

Instrukcje:

• Cut with scissors between the jackets.
• Boil and egg and let it cool off.
• Then put a jacket on the egg and put the lot into boiling water for 3 seconds.
• You will have ten beautiful Easter egg in a few minutes.
Caution: Due to use of boiling water, children require adult supervision.

Safe for health.
Do not keep sleeves under high temperature.
• Rozetnij folię nożyczkami w miejscach przezroczystych.
• Ugotuj jajko i ostudź do zimna.
• Dopiero wtedy załóż na nie koszulkę i zanurz całość na 3 sekundy we wrzącej wodzie.
• W parę minut masz 10 pięknych pisanek.
Ostrzeżenie: Ze względu na użycie wrzątku proponujemy wykonywanie pisanek przez dzieci razem z rodzicami.

Produkt bezpieczny dla zdrowia.
Nie utrzymuj koszulkę pod wysoką temperaturą.

The Cracovians Series - Easter eggs cartoon drawings inspired with native tradition. In the series appear facetious chickens in Cracow costumes, the Łowiczanka maiden, little hares, storks, and the traditional holiday babka cake. The designs are made for the youngest but will give pleasure all receivers. Their entirety is embedded in the Polish tradition and always awakens a smile.

seria Krakowiaki - to 10 pisanek rysunkowych inspirowanych rodzimą tradycją. W serii pojawiają siędowcipne kurczaki w krakowskich strojach, panna Łowiczanka, szczerbate zajączki, bociany, jak i tradycyjna świąteczna babka. Wzory są skierowane do najmłodszych ale cieszą wszystkich odbiorców. Całość jest osadzona w polskiej tradycji i zawsze budzi uśmiech.