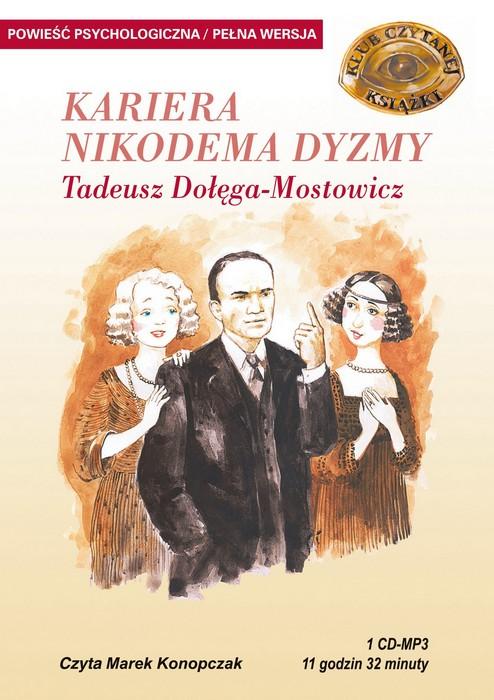 Kariera Nikodema Dyzmy - Tadeusz Dolega-Mostowicz 1CD MP3
Kariera Nikodema Dyzmy autor Tadeusz Dołęga Mostowicz
Czas: 11 godzin 32 minut
Wydawnictwo: MTJ
Rok wydania: 2010
Wydanie na 1 CD, MP3
Bezrobotny Nikodem Dyzma, prowincjusz z kresów, przebywa w Warszawie szukając pracy. Wędrując ulicą pewnego razu, Dyzma znajduję zaproszenie na przyjęcie i postanawia tam iść. Na przyjęciu, zaprzyjaźnia głowę poselską i podbija serca gości jego zachowaniem. Następnie jest zapoznany z bogtym człowiekem o imieniu Kunicki, byłym artysta, który jest pod takim wrażeniem Dyzmy, że oferuje mu posadę kuratora swojej wiejskiej posiadłości ...
In Polish Only!
The Career of Nicodemus Dyzma by Tadeusz Dołęga Mostowicz
Duration: 11 hours 32 minutes
Publisher: MTJ
Publication year: 2010
On 1 CDs, MP3
Nicodemus Dyzma is a small-town man who comes to the Polish capital from the Eastern provinces (known as "Kresy") in search of work. While walking the streets of Warsaw, he finds a lost invitation to a party reception. Hoping for a free meal, he decides to use it since he owns a tuxedo. At the reception, he befriends a Member of Parliament and wins the hearts of guests with his attitude. He is introduced to a wealthy landowner by the name of Kunicki, a former con artist, who is so impressed by Dyzma that he offers him a job as superintendent of his country estate...
MP3 Minimum System Requirements:
CD, DVD player, or computer with MP3 playback capabilities.
A computer is necessary for transfer to a portable MP3 device.