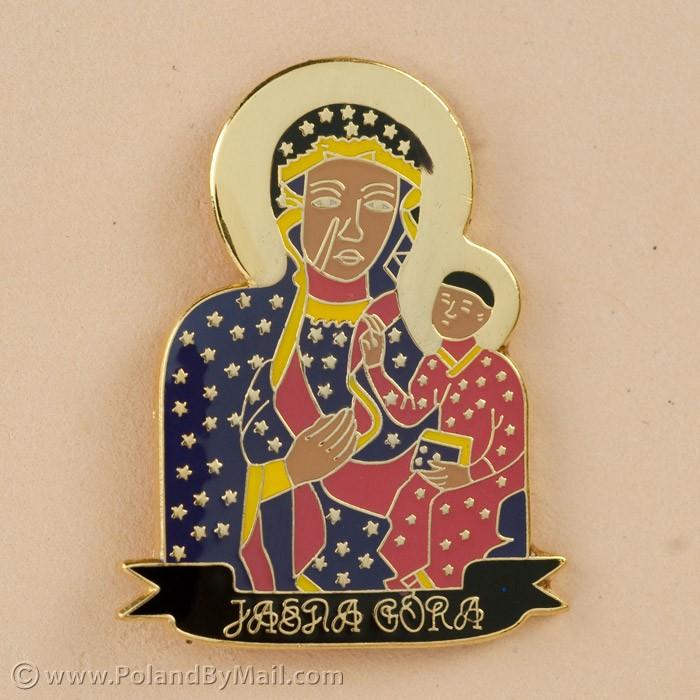 Lapel Pin - Matka Boska Czestochowska
Gold finish butterfly clutch lapel pin of
Matka Boska Częstochowska
(Black Madonna of Częstochowa). Under the image written in the black banner is "Jasna Góra", the name of the monastery in the City of Częstochowa, Poland which currently houses the painting.
Pin measures: 0.9" L x 1.18" H
Package in a clear polybag.
This design is also available as a Magnet! Please see our (Item # 850344).
This design is also available as a Necklace! Please see our (Item # 850399).
According to legend, the Black Madonna of Częstochowska icon was painted on a cypress table top from the home of the Holy Family by St. Luke the Evangelist. The painting depicts the Madonna in robes decorated in fleur de lys. The Jasna Góra tells that in August of 1382, the picture was moved from Jerusalem to Częstochowa. During a Swedish invasion in the 17th century, the Black Madonna was credited with with saving the monastery of Jasna Góra from being destroyed in a fire, but not before the flames darkened the skin tones of Mary and Jesus. Cut marks on the cheek of Mary are said to have happened when a Hussite robber slashed the painting with his sword inflicted two deep strikes. Upon attempting the third strike, he fell dead. Past attempts were made to repair the scars in vain, for they have always reappeared. As a result of these events, King Jan Kazimierz "crowned" the Black Madonna, Our Lady of Częstochowa, as Queen and Protector of Poland on April 1st, 1656 in the cathedral of Lwów.