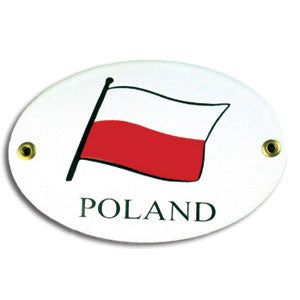 Metal Sign - Oval, POLAND Flag
These beautifully hand painted cast metal enamel sign is made in Poland by a company that makes them for the Government. Each sign is richly enameled and follows a distinctive style that captures old time tradition for modern day use. Fired in a 350C degree oven for color, richness, and durability of the sign. Equipped with brass screw hole protector to prevent rust.
Screws not included.
We offer here "Poland Flag" sign in 6" L x 3.75" H size.