Model Kit - Ford Tf-c Armored, Samochod pancerny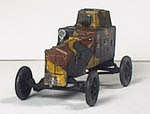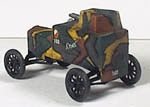 Plastic model kit with decals.
This is the Ford Tf-c (FT B, model 1920) known as Samochód pancerny in Polish. This was a model T frame on which the Poles built an armored car body. Fought in 1920 against the Bolsheviks. The kit is 1/72 and comes as part of a double kit by Hit with the Ansaldo A.1.
Pierwszy polski samochod pancerny- polskiej konstrukcji opracowany przez inz. Tadeusza Tanskiego na podwoziu samochodu osobowego Ford T. Swoj chrzest bojowy Fordy przeszly uczestniczac w bitwie 5 armii dowodzonej przez gen. Sikorskiego nad rzeka Wkra toczacej sia rownolegle do bitwy warszawskiej. W wyniku tych bitew zostaly rozbite jednostki bolszewickiego Frontu Zachodniego dowodzonego przez M. Tuchaczewskiego.
Scale 1:35
Straight forward illustrated assembly instruction.
Some Polish language instruction, not crucial for successful assembly.
Paint and glue not included.
Recommended for ages 14+
Not suitable for children 3 years old and younger.
Box measures: 10.1" x 6.4" x 1.5"