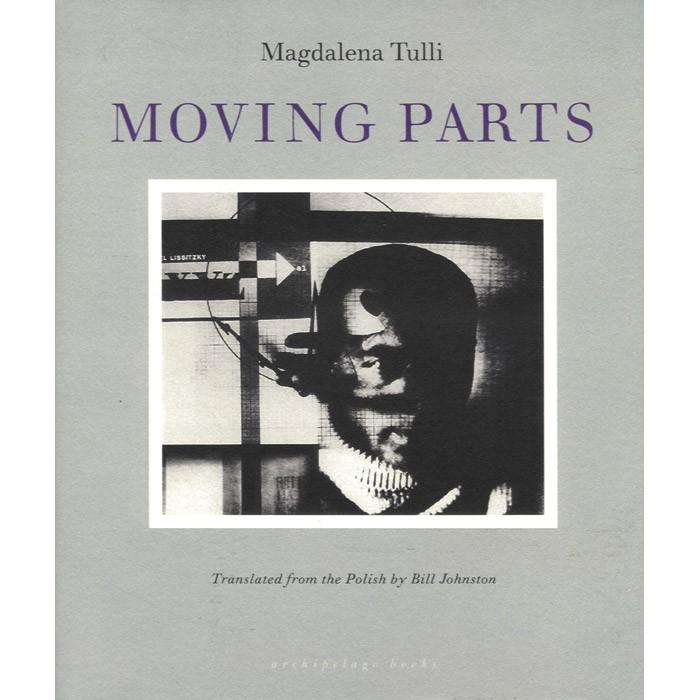 Moving Parts - Magdalena Tulli
Moving Parts
Written by
Magdalena Tulli
Translated from the Polish by
Bill Johnston
A feckless, comical narrator struggles against all odds to tell a story for which he is responsible, but which he neither controls nor understands. His characters multiply, repeat, and go astray; his employer pays no attention, asleep in a drunken stupor. The increasingly desperate narrator clambers over rooftops and through underground passages, watching helplessly as his characters reappear in different times and settings and start rival stories against his will. This brilliant, wryly humorous work tells of the sadness of the world and of the inadequate means that language and storytelling offer for describing and understanding it. Yet it does so in Tulli's characteristically clear, concrete, gorgeous prose. This extraordinary work, unique in both form and message, shows a European master at the height of her powers and constitutes a major contribution to a new century of European literature. A wildly inventive page-turner.
Finalist for the International IMPAC Dublin Literary Award 2007
"The originality of the writing is not lessened by representing a family tree that includes Michaud, Kafka, Calvino, and Saramago."
W.S. MERWIN
"Magdalena Tulli's taut novel follows a daring path through the maze of recent European history--from its whimsical postmodern opening to a far more complex inquiry into the enduring legacy of World War II and the nature of human destiny itself. A genuine tour de force that grows more fascinating with each surprising turn."
LYNNE SHARON SCHWARTZ
MAGDALENA TULLI (1955 - ) is one of Poland's leading writers. She lives in Warsaw, where she works as a psychologist and translator. She has translated the work of Marcel Proust and Italo Calvino into Polish. Her first book, Dreams and Stones won the prestigious Koscielski award, while Moving Parts was nominated for the 2006 International IMPAC Dublin Literary Award. Flaw, Tulli's most personal work to date, has been short-listed for the 2007 Nike Prize, Poland's most prestigious literary award.
BILL JOHNSTON is an Assistant Professor of Comparative Literature and Second Language Studies at Indiana University in Bloomington. In 1999 he received a National Endowment for the Arts Poetry Fellowship for Translation. His translation of Magdalena Tulli's Dreams and Stones won the 2005 Award for Best Translation into English from the American Association of Teachers of Slavic and East European Languages. Johnston is among the most outstanding translators of Polish literature into English and in 2008 he received the first Found in Translation Award for Tadeusz Rozewicz's New Poems.
Publishing House: Archipelago Books, Brooklyn 2005
HardCover book measuring 5.75" x 6.75"
133 pages
English Language Version
All books are shipped through the U.S. Postal Office using Media Mail service. Typically delivery times are between 1 and 2 weeks. Please be advised, certain destinations in the U.S. may take longer.