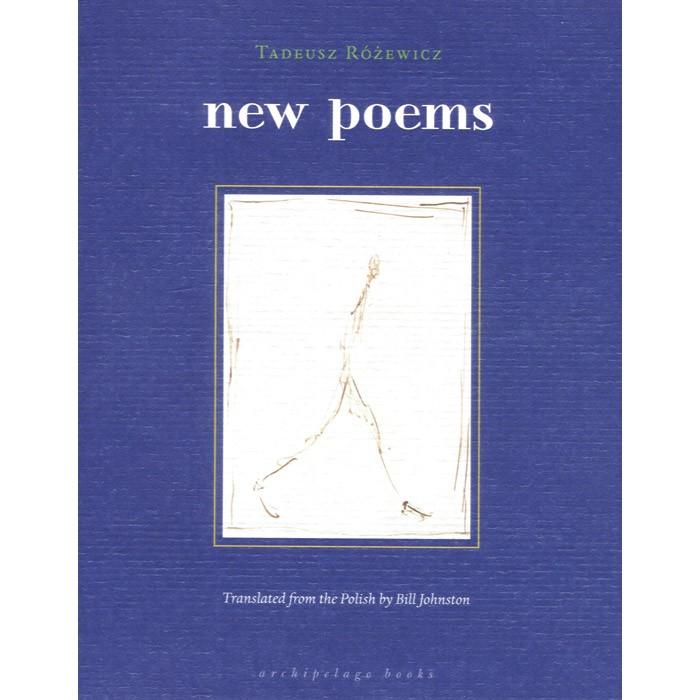 New Poems - Tadeusz Rozewicz
New Poems
Written by Tadeusz Rozewicz
Translated from the Polish by
Bill Johnston
Written in a pared-down, direct language, and filled with allusions to everything from philosophy to TV talk shows, the poetry of Tadeusz Rozewicz encompasses the complexity of human experience in the early 21st century. Rozewicz's unique voice, formed during his experiences as a member of the Polish resistance in World War II, and honed by decades living under communist rule, holds a merciless mirror up to the crimes and excesses of the poet's lifetime. In his eighties now, Rozewicz continues to be a prolific writer and an acerbic commentator on his life and times. This collection combines his latest three volumes: professor's knife, gray zone, and exit. These are extraordinary poems from an acknowledged European master.
Winner of first FOUND IN TRANSLATION Award, BILL JOHNSTON received the award in April 2008 for the finest Polish-English literary translation of the year.
"Rozewicz is a poet of chaos with a nostalgia for order. Around him and in himself he sees only broken fragments, a senseless rush."
CZESLAW MILOSZ
"I cannot imagine what post-war Polish poetry would have looked like without the poems of Tadeusz Rozewicz. We all owe something to him, though not all of us are able to admit it."
WISLAWA SZYMBORSKA
TADEUSZ ROZEWICZ (1921 - ) is considered one of Europe's most innovative and important writers. Along with his contemporaries Czeslaw Milosz, Zbigniew Herbert, and Wislawa Szymborska, he created the extraordinary phenomenon that was post-war Polis poetry. Lionized in his native country and beyond, since his debut in 1946 with Unease he has published over twenty major collections of poetry. He is also one of the most important Polish playwrights of the 20th century. His poetry and play continue to attract the highest critical acclaim in Poland; his numerous awards include the Nike Prize, Poland's most prestigious literary award, for his 1999 book Mother Departs.
BILL JOHNSTON is an Assistant Professor of Comparative Literature and Second Language Studies at Indiana University in Bloomington. In 1999 he received a National Endowment for the Arts Poetry Fellowship for Translation. His translation of Magdalena Tulli's Dreams and Stones won the 2005 Award for Best Translation into English from the American Association of Teachers of Slavic and East European Languages. Johnston is among the most outstanding translators of Polish literature into English and in 2008 he received the first Found in Translation Award for Tadeusz Rozewicz's New Poems.
Publishing House: Archipelago Books, Brooklyn 2007
SoftCover book measuring 5.1" x 6.5"
259 pages
English Language Version
All books are shipped through the U.S. Postal Office using Media Mail service. Typically delivery times are between 1 and 2 weeks. Please be advised, certain destinations in the U.S. may take longer.