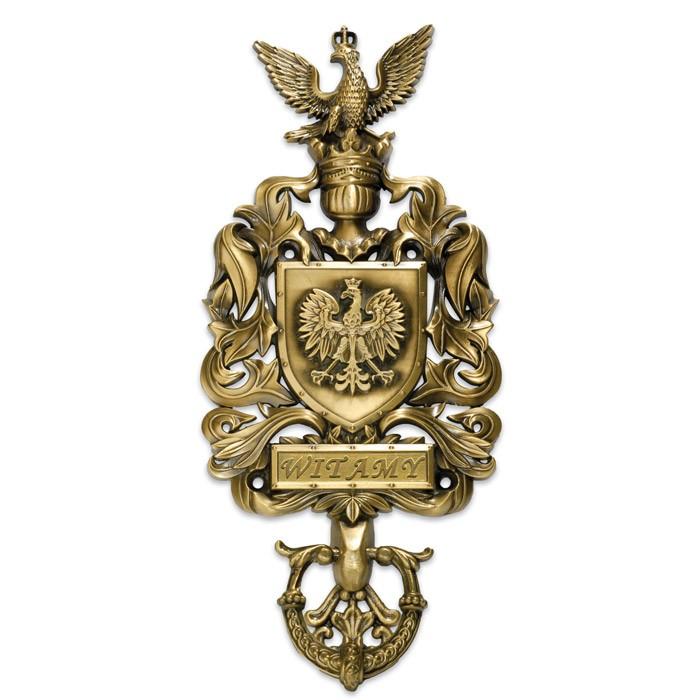 Poland Coat of Arms Brass Doorknocker with Witamy Plaque
As the focal point of the entry way, the first thing a guest of your house will see is your front door. What better way to demonstrate your Polish household heritage and welcome your guests than with an attractively crafted brass doorknocker of the National Coat of Arms of Poland of the White Eagle Crest? Made in limited quantities, this ornately detailed functional brass doorknocker is hand-molded with precision by an accomplished metal smith.
Engraved on the door knocker is a reversible brass plate that has the Polish greeting "Witamy" on one side and the English equivalent "Welcome" on the other so you can decide for yourself which greeting you want to display on your brass doorknocker.
Surrounding the Polish White Eagle on the shield are intricately twisting leaves winding up top to the knight's helmet where perched is the richly detailed crest of the Crowned Polish White Eagle. The round knocker at the bottom and striking plate are also elaborately detailed completing this unique metalwork. Because of their durability, brass doorknockers make a wonderful gift and can be shared and cherished through generations setting the home's front door apart from the rest.
Measures approx. 4.25" Wide x 10" Tall x 0.8" Depth
Mounting screws are included.