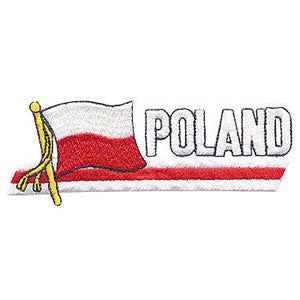 Iron-On Patch - POLAND Flag
Personalize your garments with Polish patriotism with this iron-on patch. The patch has high quality embroidery displaying the Polish Flag and "POLAND" written beside. You can even frame this patch individualizing your home.
Patch measures: 4.6" x 1.75"
Patches can be ironed onto Cotton, Denim, Wool, and Leather. When using a house Iron, set it to Cotton (up to 350°F). Place a damp cloth over the patch and Iron onto desired fabric, or garment, while applying firm pressure for 30 seconds. Allow patch to cool for 5 minutes. Turn fabric over, or garment inside-out, and iron the area behind the patch, applying firm pressure again for another 30 seconds. Allow area to cool for 5 minutes. Patches can be sewed onto fabric or garments with a single or double stitch by sewing along the border of the patch.