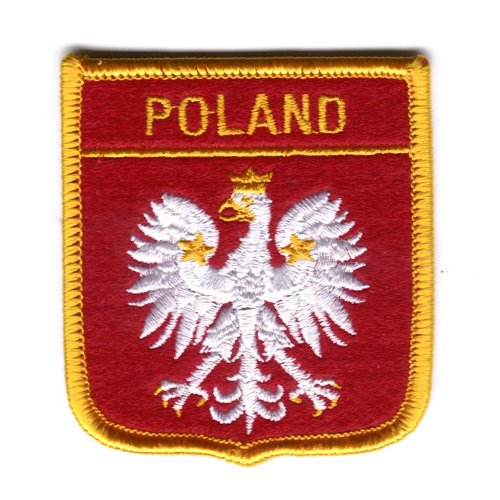 Iron-On Patch - POLAND White Eagle Shield
This White Eagle coat-of-arms shield patch you can iron onto your favorite jacket or frame it for your wall to proudly display. The White Eagle is skillfully embroidered on a red felt background. Both the 5-pointed starts on the wings are decorated in gold colored thread.
Patch measures: 2.5" x 2.75"
Patches can be ironed onto Cotton, Denim, Wool, and Leather. When using a house Iron, set it to Cotton (up to 350°F). Place a damp cloth over the patch and Iron onto desired fabric, or garment, while applying firm pressure for 30 seconds. Allow patch to cool for 5 minutes. Turn fabric over, or garment inside-out, and iron the area behind the patch, applying firm pressure again for another 30 seconds. Allow area to cool for 5 minutes. Patches can be sewed onto fabric or garments with a single or double stitch by sewing along the border of the patch.