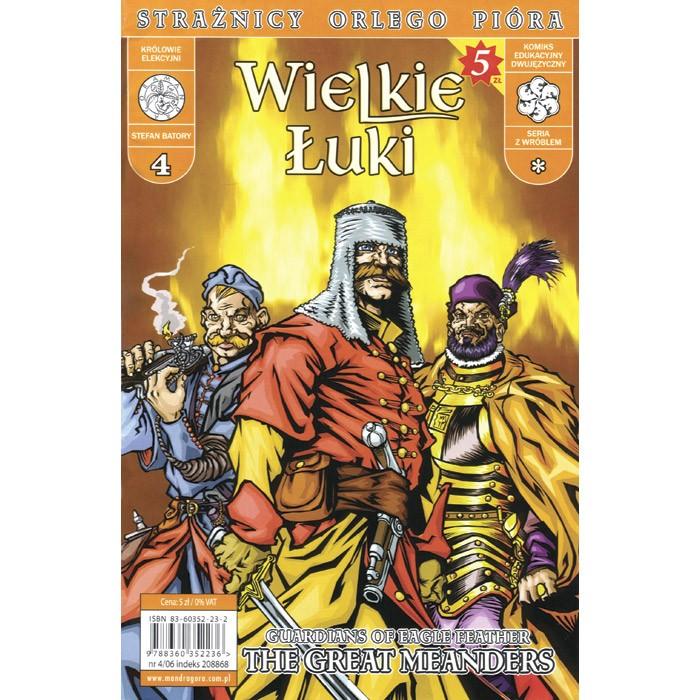 Polish History Comic Vol.4 - The Great Meanders (Bilingual)
Bilingual (Polish-English) educational comic books series presenting selected aspects of Polish history. For parents and teachers alike, it is more and more difficult to convince children to open and read a book. The situation changes when we offer them a comic book or a computer game. This new idea of teaching Polish history by reading comic books has so far proven to be effective. Presented in an exciting style, comics draw the attention of children as well as their parents. At the end of each comic is a short dictionary listing of old Polish terms along with a list of Polish-English vocabulary.
Fourth comic book from the Guardians of Eagle Feather (Strażnicy Orlego Pióra) series presenting the history of King Stefan Batory in the tale of The Great Meanders (Wielkie Łuki).
Nowy cykl komiksow poswieconych polskiej historii, "Strażnicy Orlego Pióra", wydawany jest w polsko-angielskiej wersji jezykowej. Poswiecony polskiej historii, ma na celu dotarcie do szerokiej grupy mlodziezy.
Trwa oblezenie Wielkich Lukow. Krol Stefan Batory osobiscie doglada prac minerskich. Niespodziewany wypad Moskali zaskakuje polska zaloge. Wywiazuje sie walka, podczas ktorej berlo krola wpada w rece obroncow Wielkich Lukow. Nastepnego dnia rozsierdzony Stefan Batory postanawia wmieszac sie w oddzial wyznaczony do wysadzenia murow twierdzy i samemu odebrac swoja wlasnosc. Niestety pod murami zamku dochodzi do eksplozji. Krol traci swiadomosc i zostaje pojmany przez Moskali. Na jego szczescie obroncy nie rozpoznaja w nim krola Polski. Sytuacja jest jednak bardzo powazna. Na ratunek krolowi wyrusza Jakub Witoszowic herbu Birkut...
Historical Adaptation/
Opracowanie historyczne
: Paweł Nowak
Screenplay/
Scenariusz
: Wojciech Birek
Cartoonist & Cover/
Rysunki i Okładka
: Sławomir Kiełbus
Translation/
Tłumaczenie
: Orkanaugorze
Publishing House: Mandragora, Warsaw, 2006
Comic book measuring 6.7" x 10.25" x 0.125"
24 Pages
Bilingual English/Polish Language Version
All books are shipped through the U.S. Postal Office using Media Mail service. Typically delivery times are between 1 and 2 weeks. Please be advised, certain destinations in the U.S. may take longer.