Polish Immersion for Beginners (CD-ROM)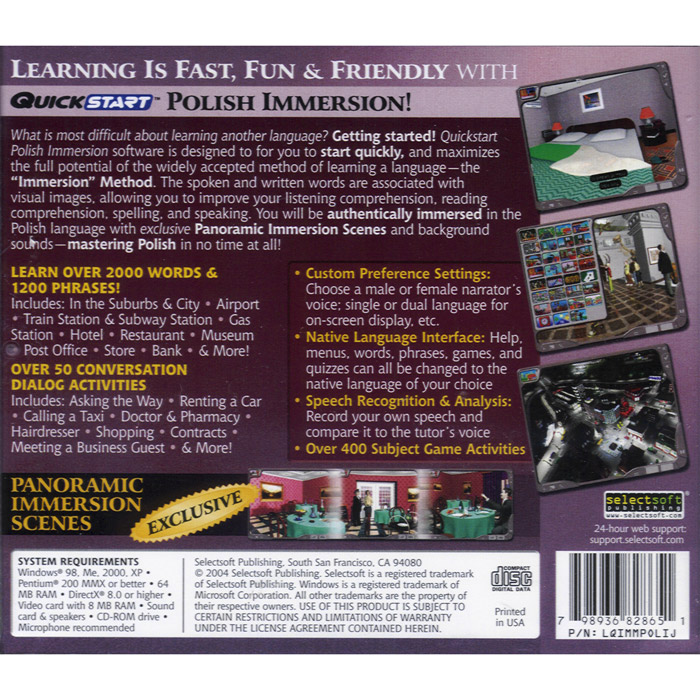 Quickstart Polish Immersion software is designed for you to start quickly and maximize the full potential of the widely accepted method of learning a language - the "Immersion" Method. The learning method is similar to the way you would acquire your own native language. Each word is introduced in a context where meaning is clear and memorable. The spoken and written words are associated with visual images, allowing you to improve your listening comprehension, reading comprehension, spelling, and speaking. You will be authentically immersed in the Polish language with exclusive Panoramic Immersion Scenes and background sounds - mastering Polish in no time at all!
Easy and effective for beginners and travelers, a powerful learning tool for intermediate speakers, and a useful refresher course for advanced speakers!
Speech Recognition & Analysis
Train and improve your pronunciation! Select from over 2000 words and 1200 phrases. The Recording Session with Voice Recording and Visualized Playback Technology enables you to record your own speech and compare it to the tutor's voice to determine your accuracy.
Custom Preference Settings
Customize the interface to suit your preferences. Choose a male or female narrator's voice. Set preference of single language or dual language (your native language and the language you are learning) for on-screen text display. Choose whether to have background sounds while participating in Panoramic Scene Activities.
Native Language Interface
Learn to speak using your own native language! Most language software sold in the U.S. requires you to first be proficient in Polish before you can learn another language. Not with Quickstart Immersion! Help and menus, words and phrases, games and tests can all be changed to the native language of your choice.
INCLUDES:
2000+ Number of Words
1200+ Number of Phrases
80+ Subject Categories
400+ Subject Game Activities
50+ Conversation Dialog Activities
30+ Panoramic Immersion Scenes
240 Games (8 Games per Activity)
PRODUCT FEATURES:
For Beginners, Travelers & Advanced Speakers
Zoom In and Out, Pan Around in Interactive Immersive Scenes
Voice Recording & Visualized Playback
Custom Settings (voice, background, etc.)
Individual Progress Reports
Dictionary
Glossaries
Native Language Selection
ACTIVITIES INCLUDE

30 Word Activities:
In the Suburbs
In the City
Town Square
Streets in Town
At the Airport
Check-In & Customs
Passport Control
Boarding & Arrivals
At the Train Station
At the Subway Station
At the Gas Station
At the Hotel
At the Restaurant
At the Bar
At the Museum
At the Post Office
At the Store
At the Bank
At the Office
Business Meetings & Negotiations
At the Exhibition
Days, Weeks & Months
Telling Time
Seasons & Weather





Over 50 Conversation Dialog Activities:
Asking the Way
At the Gas Station
Renting a Car
Car Maintenance
Calling the Police
Calling a Taxi
Taking the Bus, Tram, or Trolley
Parking the Car
Taking the Subway
Purchasing Tickets
Train Station
On the Train
At the Baggage Claim
Getting a Porter
Getting a Flight
On the Airplane
Airport Information Booth
Airport Check-in, Customs & Passport Control
At the Hotel Reception
The Hotel Room
Hotel Questions & Complaints
Post Office
Telephone
At the Doctor
At the Pharmacy
What's the Time?
How's the Weather?
At the Hairdresser
At the Bank
At the Dry Cleaners
Shopping
At the News Stand
At the Smoke Shop
Buying Souvenirs
Business Meetings & Negotiations
Business Discussions & Phone Calls
Contracts
Exhibitions & Trade Fairs
At the Restaurant
Having Dinner
At the Bar
At the Repair Shop
Invitations
How Can I Get to...?
Meeting a Business Guest
Meeting a Friend
Over 100 Conversation Dialog Games (2 Games per Activity)





Special Dictionary Activities:
Human Actions
Colors & Shapes
Directions
Common Phrases
Greetings & Wishes
Numerals
Questions
Signs & Notices
Clothing
Foods
Fruits
Vegetables
Meat
Fish
Human Anatomy
Fast Food
Sports
Over 65 Special Dictionary Games
SYSTEM REQUIREMENTS
Operating System: Windows 98, Me, 2000, XP, Vista
Pentium 200 MMX or better
64 MB of RAM
DirectX 8.0 or higher
Video card with 8 MB of RAM
Sound card and speakers
CD-ROM drive
Microphone recommended (not included)