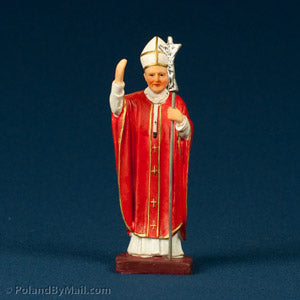 Resin Statue - Pope John Paul II
Hand-painted resin statue of Pope John Paul II holding in his left hand his rod of the crucified Christ, while his right hand is raised in a sign of blessing.
Statue Measures: 2.25" L x 1.75" W x 6.25" H

The only Polish Pope, Pope John Paul II, born Karol Józef Wojtyła (May 18, 1920 Wadowice, Poland - April 2, 2005 Vatican City), reigned as Pope of the Catholic Church for more than 26 years, the second longest. A number of his clergy and people throughout the world now commemoratively refer to him as "John Paul the Great."

"As the family goes, so goes the nation and so goes the whole world in which we live. "
—Pope John Paul II