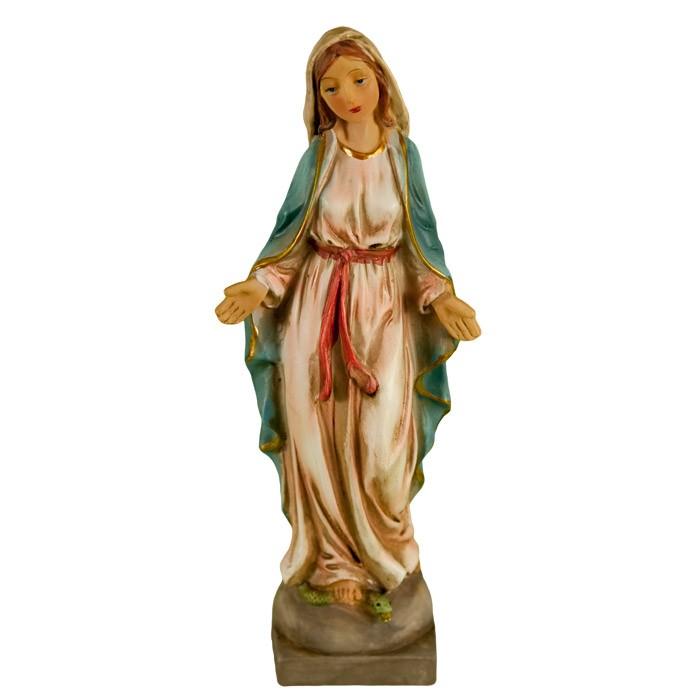 Resin Statue - Virgin Mary: Our Lady of Grace, 7 inch
This glorious resin statue of Our Lady of Grace is beautifully hand-painted with soft tones and rich golden accents. Adorned in a long flowing garb and a red ribbon sash, the Virgin Mary has her hands open and outstretched in a welcoming gesture to shower grace upon the faithful who would ask for her help. Underneath her feet is the snake, a symbol of the victory over Satan through the life and resurrection of her Son, Jesus Christ. Designed with exquisite detail, the Our Lady of Grace statue makes a wonderful inspirational gift for Confirmation, a graduate, newlyweds, or for a mother.
Statue Measures: 2" L x 2.1" W x 7.75" H
The most well-known representation of Our Lady of Grace is featured on the Miraculous Medal as revealed to St. Catherine Laboure. On the front side of the Miraculous Medal Mary, as Mediatrix, is pictured with the rays of grace streaming down from the jewels on Her fingers. On the reverse side of the Miraculous Medal, Her heart pierced with a sword, parallel to Her Son's heart crowned with thorns.