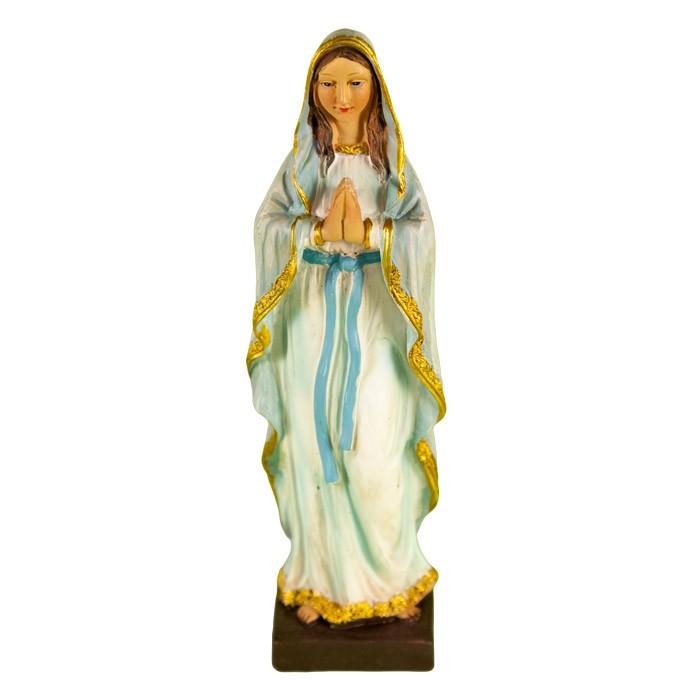 Resin Statue - Virgin Mary: Our Lady of Lourdes, 6 inch
This glorious resin statue of Our Lady of Lourdes is hand-painted with white and blue finishes and rich golden accents. Adorned in a long flowing garb and a blue ribbon sash, the Virgin Mary holds her hands in prayer and stands on a brown base. Our Lady first appeared to Bernadette at the Grotto of Massabielle, in Lourdes, France. She appeared many times after that, always dressed the same way. Word spread of the apparition but, no one else could see Our Lady except Bernadette. To this day, it is said that the stream at Lourdes holds miraculous healing powers and the statue serves as a spiritual symbol and an icon of caring. Our Lady of Lourdes is a patroness of purity of mind, heart, body and soul. Designed with exquisite detail, the Our Lady of Lourdes statue makes a wonderful inspirational gift for Confirmation, a graduate, newlyweds, or for a mother.
Statue Measures: 1.75" L x 1.4" W x 5.9" H
In 1858, Our Lady of Lourdes appeared to Bernadette Soubirous, a pious but uneducated girl from a very poor family living in the Pyrenees Mountains in southern France, in a town named Lourdes. The visits – in a most unlikely part of the city: the town dump – started on February 11 and ended on March 25, at which time the beautiful lady revealed her name, saying "I am the Immaculate Conception." It seems that heaven was confirming – and shedding additional light on – the solemn definition issued four years earlier by Pope Pius IX, in which he infallibly declared that the Virgin Mary had been preserved free from original sin from the first moment of her conception. Miracles of healing began on the day of the last apparition, when the Virgin told Bernadette to bathe in the spring of water, which was never there, but soon appeared at the Lady's command. The healings continue to this day, and inspire millions to make the journey to this holy place. The scene of the apparition is depicted on the medal. Our Lady of Lourdes is the patroness of bodily ills, and her feast is celebrated on February 11.