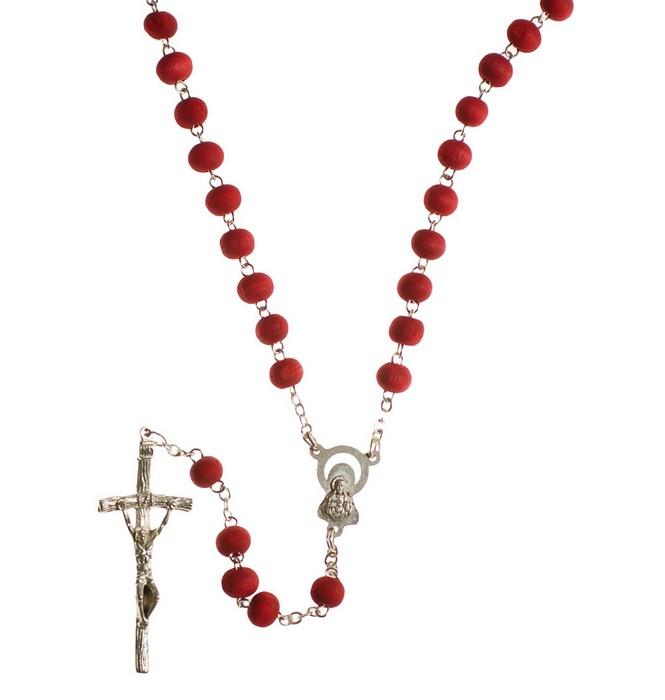 Scented Wooden Rosary with Metal Roses & Crucifix, 17 inch
Rosaries come in all shapes and sizes, but few are as beautiful as this 17"L rosary made of wooden beads with a light floral scent. At the center is a metal image of the Blessed Virgin Mary on one side and the Jesus Christ on the other. Attached to the bottom of the wooden bead strand is a metal crucifix. The wooden beads have a beautiful reddish color. This rosary can be used for all your praying needs. Comes in a transparent plastic box with a metal rose on top.
Made in Poland
For centuries, people have used rosaries as tools for prayer and meditation. Rosaries are comprised of a series of beads arranged on a chain or thread and each bead represents a single prayer. The first rosary beads were fashioned from actual rose petals, which exuded a heavenly scent, especially when warmed by the hands and fingers during prayer. The word Rosary means "Crown of Roses" and roses have been traditionally associated with the Blessed Virgin Mary. Our Lady has revealed to several people that each time they say a Hail Mary, they are giving her a beautiful rose and that each complete Rosary makes her a crown of roses. The rose is the queen of all flowers. That makes the Rosary the "Rose of all Devotions," and therefore, the most important devotion.