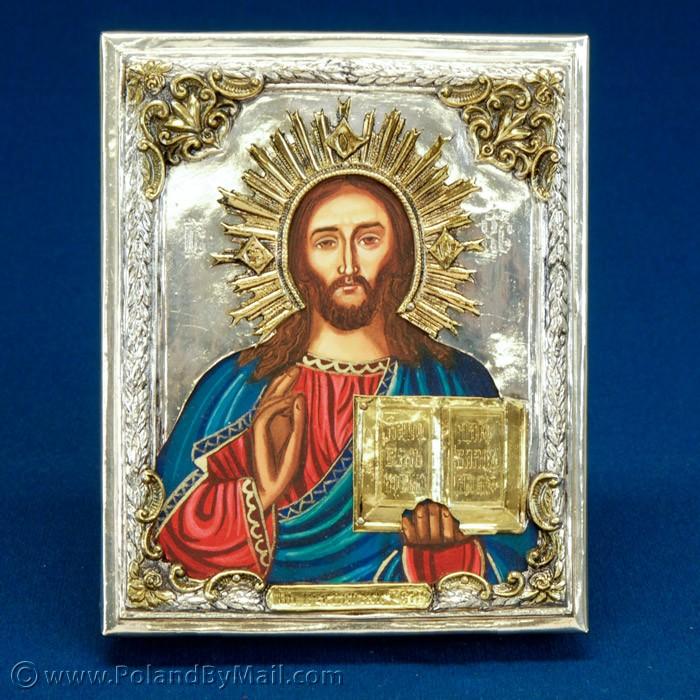 Silver Plated Icon - Christ Pantocrator
PLEASE CLICK ON THE IMAGE BELOW TO VIEW LARGE PICTURE


Christ Pantocrator Silver Plated Icon
Handcrafted by Polish metal smith artist, this valuable icon can be yours with this very attractive silver plated frame and 24kt gold gilded finished details and velour back. The main material of the artwork is copper fused with silver. This artistic religious fine art piece is handcrafted using traditional techniques and natural materials to emphasize the beauty of past design traditions. The figure of Jesus is entirely hand-painted. The back of the religious icon comes affixed with a sawtooth hanger for easy wall mounting.
Silver Plated Icon Measures: 5.7" W x 7.3" H x 1.2" D
Like each icon showing Jesus, also this one is patterned after a medallion—"the first none human made picture". God took human body and transformed it. Jesus himself was the first icon when he was born. Christ shown in this icon is blessing the viewer with his right hand and in this left hand he is holding the Gospel with the quotation of love commandments. The icon shows Christ not only as a Lord of Heaven and Earth but also as Lord of Love. From the Greek, the word Pantocrator is most commonly translated as "Almightily" or "All-powerful." The icon of Christ Pantocrator is one of the most widely used religious images of Orthodox Christianity with the oldest known surviving icon from the 6th-7th century.