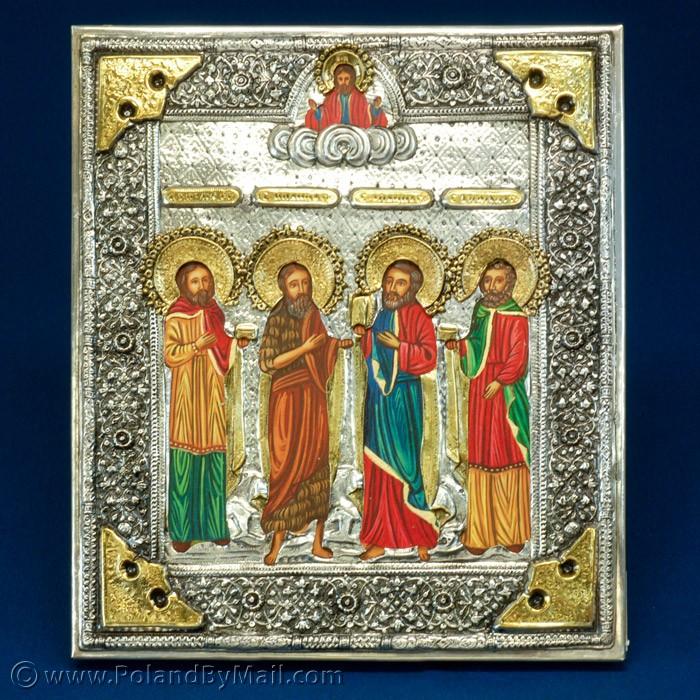 Silver Plated Icon - Four Saints #2
PLEASE CLICK ON THE IMAGES BELOW TO VIEW LARGE PICTURES




Four Saints: Kosma and Damian & Their Brothers Leontij and Anfim Silver Plated Icon #2
Handcrafted by Polish metal smith artist, this valuable icon can be yours with this very attractive silver plated frame and 24kt gold gilded finished details and velour back. The main material of the artwork is copper fused with silver. This artistic religious fine art piece is handcrafted using traditional techniques and natural materials to emphasize the beauty of past design traditions. The figures are entirely hand-painted. The back of the religious icon comes affixed with a sawtooth hanger for easy wall mounting.
Silver Plated Icon Measures: 12.5" W x 14.4" H x 1.0" D
XIX century. Killed for Christian religion in Kelikia on the turn of the third century, St. Kosma and Damian were twin brothers and came from Arabia. Proficient at art of healing, they visited people in villages and towns and gave them medical attendance. They propagated Christian religion with the help of their miraculous cure. Because of that they were put to torture, imprisoned and finally beheaded. Their younger bothers Leontij and Anfim suffered and died with them. Their Feast Days are July 1st and November 1st.