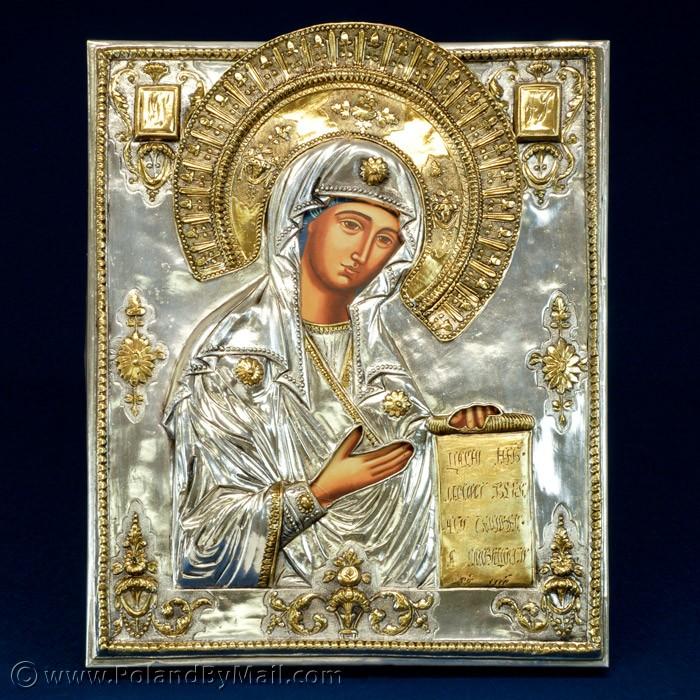 Silver Plated Icon - The Bogolyubsky Virgin #1
PLEASE CLICK ON THE IMAGES BELOW TO VIEW LARGE PICTURES








The Bogolyubsky Virgin Silver Plated Icon #1
Handcrafted by Polish metal smith artist, this valuable icon can be yours with this very attractive silver plated frame and 24kt gold gilded finished details and velour back. The main material of the artwork is copper fused with silver. This artistic religious fine art piece is handcrafted using traditional techniques and natural materials to emphasize the beauty of past design traditions. The fine hand and facial features are hand-painted. The back of the religious icon comes affixed with a sawtooth hanger for easy wall mounting.
Silver Plated Icon Measures: 15" W x 18.1" H x 1.7" D
XIX century. The oldest icon of the Bogolyubsky Virgin was commissioned in 1157 AD by Prince Andrew Bogolyubsky when he was moving from Wyshogrod to Wlodimir. He had a vision of Our Lady, holding a parchment roll in her right hand, who asked him to take a painting of her to Wlodimir. An Orthodox church and monastery were built in Wlodimir, and Prince Bogolyubsky then commissioned icon painters to portray his vision. In icon paintings of the Bogolyubsky Virgin, Our Lady is holding a roll in her right hand, and her left hand is turned towards the Savior in a gesture of prayer. In 1771, a holiday was established in honor of this icon celebrating the anniversary of the Black Plague's end in Wlodimir.