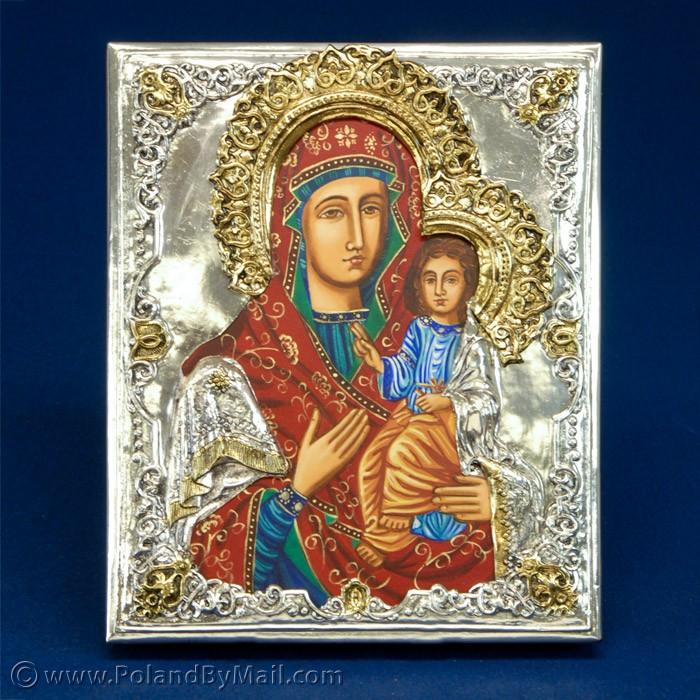 Silver Plated Icon - The Iviron Virgin
PLEASE CLICK ON THE IMAGE BELOW TO VIEW LARGE PICTURE



The Iviron Virgin of the Mother of God Hodegetria Silver Plated Icon
Handcrafted by Polish metal smith artist, this valuable icon can be yours with this very attractive silver plated frame and 24kt gold gilded finished details and velour back. The main material of the artwork is copper fused with silver. This artistic religious fine art piece is handcrafted using traditional techniques and natural materials to emphasize the beauty of past design traditions. The figures of Mary and Jesus are entirely hand-painted. The back of the religious icon comes affixed with a sawtooth hanger for easy wall mounting.
Silver Plated Icon Measures: 9.84" W x 11.8" H x 1.5" D
XIX century. In this Hodegetria variant Our Lady is slightly turned right with Jesus sitting on her left forearm and "Hodegetria gesture" made by her right hand. Hodegetria is Greek for "She who shows the Way" as Mary is pointing to the Christ Child as the source of salvation for mankind. As usual, Christ blesses the viewer with his right hand and in his left had he has a reel. The feet of Jesus that can be seen from under the gown dangling loosely and his left knee is upraised a little. In the XVII century Archimandrite Pachomiusz brought a copy of such an icon to the tsar's residence. The tsar had a separate chapel constructed for the icon. That Hodegetria, created in monasteries of monk's republic on Athos Mountain and legendary connection with Iviron monastery, has become popular in Russia since that time.