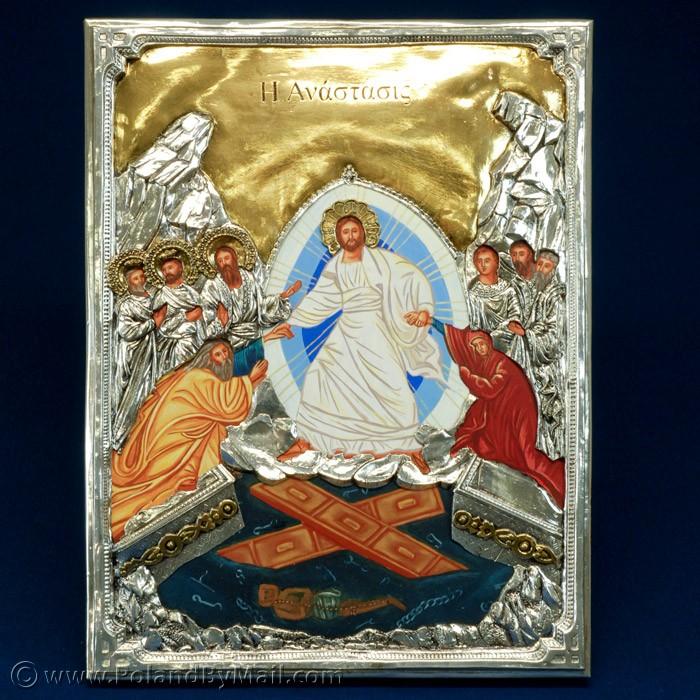 Silver Plated Icon - The Resurrection (The Anastasis)
The Resurrection (The Anastasis, Zmartwychwstanie), the Descent of Christ into Hell Silver Plated Icon
Handcrafted by Polish metal smith artist, this valuable icon can be yours with this very attractive silver plated frame and 24kt gold gilded finished details and velour back. The main material of the artwork is copper fused with silver. This artistic religious fine art piece is handcrafted using traditional techniques and natural materials to emphasize the beauty of past design traditions. The figures of Jesus, Adam and Eve, and the image of hell are entirely hand-painted. The back of the religious icon comes affixed with a sawtooth hanger for easy wall mounting.
Silver Plated Icon Measures: 13.8" W x 18" H x 1.2" D
The icon of the Anastasis (Greek for resurrection)—The Descent of Christ into Hell—is a sacred image portraying salvation that was created and developed by Christian artists of the Orthodox Byzantine Church between the late 7th-11th centuries. It is one of the favorite themes in Eastern Christian Art and the traditional Byzantine icon for the Resurrection. Christ, dressed in the white robe of the resurrection, stands in triumph on a narrow bridge of rock over the realm of death. Jesus calls forth Adam and Eve from Hell and draws them out of their tombs by their hands, while at His feet are the shattered gates of hell and its keys falling into the abyss.