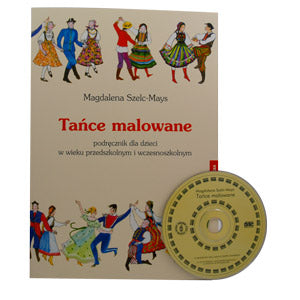 Tance malowane - Polish Dance Song & Coloring Book with CD
Tańce malowane with CD
A Polish dance coloring book for children
by Magdalena Szelc-Mays
Book & CD
English:
Tańce malowane is a dance coloring book aimed at children which is formatted with music and verses on the left-hand pages and a sketch of a dance couple ready for coloring on the right-hand pages. The back of the book has corresponding dance moves clearly diagrammed for each song. As an added bonus there are four sheets of card stock with color sketches of male and female dancers in bright color costumes from different Polish regions. These illustrations can be cut out and used as playing cards, with each card measuring 3" x 5" (7.5cm x 12.5cm).
CD Includes (17) Songs:
1) Polonez (Maurycy Polaski z Zespołem)
2) Chodzony (Maurycy Polaski, Olga Polska)
3) Krakowiaczek ci ja (Zespół)
4) Hej, od Krakowa jadę (Zespół)
5) Krakowiak (Zespół)
6) Idzie Maciek (Olga Polska z zespołem)
7) Ostatni mazur (Maurycy Polaski)
8) Matuś moja, matuś (Zespół)
9) Oberek (Utwór instrumentalny)
10) Kujawiak (Zespół)
11) Ja kujawiak, ty kujawiak (Zespół)
12) W murowanej piwnicy (Olga Polska z Zespołem)
13) Hej, bystra woda (Zespół)
14) Zachodzi słoneczko (Zespół)
15) Trojak (Zespół)
16) Polka (Utwór instrumentalny)
17) Polka lubelska (Utwór instrumentalny)
Polski:
To pionierski podręcznik do nauczania języka polskiego dla dzieci, który bazuje na zabawie głównie ruchowo-wokalnych układach tanecznych aby w ten sposób pomóc w nauczaniu i utrwalaniu nowego słownictwa.
Na książkę składają się:
• teksty piosenek z nutami • nagrania na CD muzyki klasycznych tańców polskich z tekstami: polonez, mazur, oberek, kujawiak, krakowiak, śląski trojak (walczyk), taniec góralski, lubelska poleczka
• wskazówki metodyczne: opis tańca i uwagi choreograficzne (podstawowe figury, kroki)
• teksty do muzyki
• kolorowa wyklejka z autentycznymi strojami oraz malowanki do kolorowania dla dzieci
• słowniczek podstawowych słów z ilustracjami
Publishing House: Universitas, Krakow 2003
Softcover book measuring 8" x 11.5"
84 pages, CD
Polish Language Version
All books are shipped through the U.S. Postal Office using Media Mail service. Typically delivery times are between 1 and 2 weeks. Please be advised, certain destinations in the U.S. may take longer.