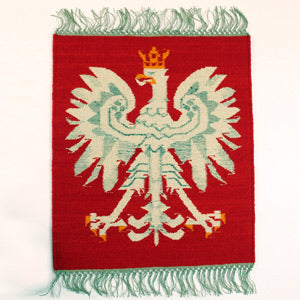 Tapestry Wallhanging Polish White Eagle, 24" x 28"
Made out of 100% wool and linen, this walhanging tapestry called KILIM (a flat or a rug without a knotted pile) is hand-woven in Krakow. The woven tapestry features the Polish national emblem of the White Eagle. It is recommended not to wash it in the water, all you need is to vacuum or dry wash it.
Tapestry measures approx: 24" x 28"
Handmade in Poland